Organ Concert at St Stephen's Basilica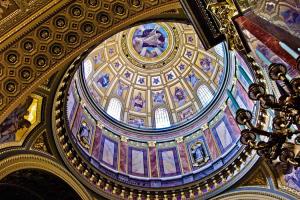 St Stephen's Basilica is undoubtedly one of the major landmarks of Hungary's capital city. One of the largest and most significant buildings in Budapest, it has stood tall for over one century. Due to its majestic architecture and splendid acoustics, it is a favourite place for concerts of classical and sacred music. The Organ Concert at St Stephen's Basilica is a unique opportunity to immerse yourself into the atmosphere of this most special place in Budapest. With renowned organist Miklós Teleki behind the keyboard, the performance promises to be one for the books!
The basilica where the concert takes place carries the name of King Stephen I, Hungary's first monarch and a famously incorruptible, just ruler. In affirmation of his noble spirit, the church's white walls and many fine-art mosaics create a sense of elevation, peace and sophistication. In this special atmosphere, the music of classical composers such as Johann Sebastian Bach, Antonio Vivaldi and Ferenc Liszt feels right at home. The spectacular organ performance by Teleki at times includes the talents of a singer and a flute player from the acclaimed Danube Symphonic Orchestra to make the musical enjoyment even fuller.
The Organ Concert at St Stephen's Basilica in Budapest illustrates Hungary's relationship to religion and spirituality very well. This performance is not only an intimate interpretation of classical works; it is a spiritual journey and a small celebration of the country's culture and roots. Christianity, statehood, architecture and music come together to form a perfect, unforgettable moment for guests of the city and fans of high culture. Under the guidance of Miklós Teleki, one of Hungary's leading organ players and classical musicians today, the programme will take you on a special trip through time and space. Between the sacred walls, get ready for a musical performance and a cultural experience that will stay with you for a long time.